BLANK FIRING PISTOL RENTALS



These pistols are manufactured solely for theatrical/film use. They cannot be made to fire real ammunition (any attempt to do so will cause the pistol to explode). They have been designed to fire specifically manufactured blank ammunition. It is unlawful for us to ship these weapons to the following localities: California, New York City, New Jersey, Connecticut, Massachusetts, Puerto Rico, Canada. Please check your local state and municipal laws regarding blank firing firearms before contacting us.



PRICES ARE AT THE BOTTOM OF THIS PAGE





.357 Detective Special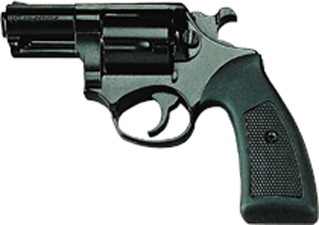 LENGTH: 2" barrel / 7.5" overall
WEIGHT: 1#, 6 oz.
FINISH: blued steel / black non-slip Lexan grip
AMMUNITION: 9 mm blanks
ACTION: 5 round cylinder/both single or double
ONE IN INVENTORY
Colt Python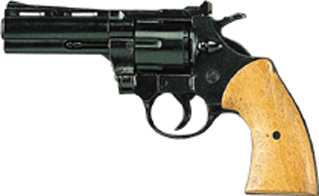 LENGTH: 4" barrrel / 9" overall
WEIGHT: 2#
FINISH: blued steel / hardwood grip
AMMUNITION: 9 mm blanks
ACTION: 6 round cylinder/both single or double
ONE IN INVENTORY
Olympic 6

LENGTH: 2" barrel / 6.5" overall
WEIGHT: 13 oz.
FINISH: blued steel / black non-slip Lexan grip
AMMUNITION: .22 crimp blanks
ACTION: 8 round cylinder/both single or double
ONE IN INVENTORY
Colt .45 Peacemaker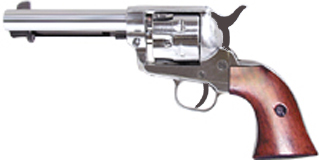 LENGTH: 4.75" barrel / 10.5" overall
WEIGHT: 2#
FINISH: chromed steel / hardwood grip
AMMUNITION: 9 mm blanks
ACTION: 6 round cylinder/single
TWO IN INVENTORY
Gold Derringer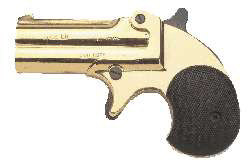 LENGTH: 4.75"
WEIGHT: 13 oz.
FINISH: gilt steel / black non-slip Lexan grip
AMMUNITION: .22 crimp blanks
ACTION: 2 feed gates/single
ONE IN INVENTORY
.45 Colt 1911 Automatic

LENGTH: 8.5"
WEIGHT: 2#, 8 oz.
FINISH: chromed steel / hardwood grip
AMMUNITION: fires 7 - 8mm blanks
ACTION: clip fed/both single or semiautomatic
TWO IN INVENTORY
Beretta 92F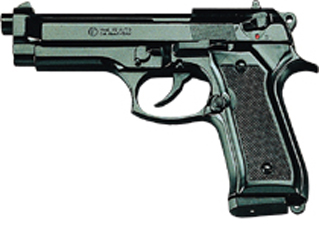 LENGTH: 8.5"
WEIGHT: 2# 1 oz.
FINISH: blued steel / black non-slip Lexan grip
AMMUNITION: fires 16 - 8mm blanks
ACTION: clip fed/both single or semiautomatic
ONE IN INVENTORY
BLANK AMMUNITION

A: .22 caliber crimp blanks (AKA "acorns")
B: 9mm/.380 caliber blank cartriges (available in full load and half load)
C: 8mm automatic full loads
AMMUNITION TIPS

Essentially, we stock four types of ammo:

.22 ACORNS
Used in the smaller pistols. The softest "bang". If you are performing in a smaller space, this will be sufficient.

9mm BLANKS/HALF LOAD
Are a bit louder than the acorns. They have a reduced powder charge and are only used in revolvers.

9mm BLANKS/FULL LOAD
Are VERY loud. Use these only if you are outdoors of if you really want the audience to jump out of their seats!

8mm BLANKS
Are designed for the semiautomatic pistols. They are somewhere in between the 9mm Half or Full load in loudness. They do not come in half loads, which would not be powerful enough to activate the recoil action of the gun.

RENTAL PRICES
THE MINIMUM RENTAL IS TWO WEEKS

BLANK FIRING PISTOLS
These rent for: $24 per week
- - - - - - - - - - Monthly Rental: $90

BLANK AMMUNITION PRICES
8mm or 9mm blanks - - - - - - - - - - .75 cents per round
.22 caliber blanks - - - - - - - - - - .15 cents per round

All rental prices subject to change.



BACK TO FIREARMS PAGE